Wonderwalks: The Trails of New Jersey Audubon
By Patricia Robinson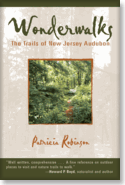 Order Now
A well written, comprehensive review of the sanctuaries, preserves, nature centers, and trails operated by the New Jersey Audubon Society and open free of charge to citizens and visitors to the Garden State. A fine reference on outdoor places to visit and nature trails to walk. Excellent photography.
— Howard P. Boyd, naturalist and author: A Field Guide to the Pine Barrens of New Jersey
Wonderwalks is the first handy guide to all the accessible trails, sanctuaries, and nature centers owned and maintained by the New Jersey Audubon Society and open to the public free of charge. Nature lovers, hikers, birders, and anyone seeking a respite from the commotion of modern life will delight in this informative, illustrated tour of many of the Garden State's most pristine natural sites and walking paths.
Author, photographer, and native New Jerseyan Patricia Robinson shares a wealth of useful information and advice on the most easily reached New Jersey Audubon sites statewide—from the highlands in the north to Cape May in the south. Organized in two parts, "The Staffed Nature Centers" and "The Preserves: Fun Off the Beaten Path," the book provides contact information and driving directions along with details on facilities, staffing, and hours for each site.
Well-informed descriptions of the trails and other natural characteristics of each center are enhanced throughout by Robinson's original photography, plus seasonal listings of the birds, butterflies, wildflowers, and other flora and fauna you are most likely to encounter.
Discover what New Jersey Audubon has to offer in the pages of this delightful book—and start planning your next "wonderwalk" today!
October 2003 | 224pp/softbound | ISBN: 0-937548-53-7 | $19.95
Order Now: Print Edition | Amazon Kindle | B&N Nook | Kobo