The Last Newspaperman
A novel by Mark Di Ionno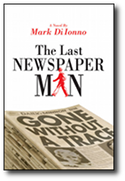 Order Now
Read All About It!
In his much-anticipated first novel, award-winning Star-Ledger columnist Mark Di Ionno explores the roots of tabloid journalism and the rise of celebrity media culture.
Jersey in the '30s was Fred Haines's beat, though it was hardly worthy of the reporter who'd scooped the Ruth Snyder story back in '27. "The most famous Daily News cover ever," Haines bragged. His photo showed Snyder strapped to the electric chair. "Respectable" papers denounced it as vulgar, but it sold millions of copies and cemented Haines's reputation as the go-to "tabloid guy" just as celebrity worship was becoming an American obsession.
But that was before Haines had the bad sense to publicly insult an even faster-rising media star named Walter Winchell. Haines wound up on the graveyard shift at the Daily Mirror, covering the most trivial stories his editor could dredge up. And Jersey.
"Strictly Sticksville," he said, remembering a cold March night in 1932. That was the night he drove down to rural Hopewell, near Trenton, oblivious that the story of the century was about to break under his byline. The infant son of Charles Lindbergh had been kidnapped, and Haines was about to become part of a media frenzy unlike anything anyone had ever seen.
"It is through the eyes of ruthless reporter Fred Haines that we see how modern media evolved from the remorseless, sensational journalism of the 1930s. With The Last Newspaperman, Mark Di Ionno has written the Great American newspaper novel."
— Robin Gaby Fisher,
The Woman Who Wasn't There
"For an excursion to a time when newspapers were king, travel the newsprint trail mapped by Mark Di Ionno in his engaging novel The Last Newspaperman. Di Ionno has created characters who are not simply black-and-white, as they provide an inside look at the biggest headline-grabbing events in New Jersey history."
— Jim Waltzer,
author Tales of South Jersey
Click here to listen to Mark Di Ionno talk about the rise of tabloid journalism and how it plays a role in his new book, The Last Newspaperman.
September 2012 | 224 pp/hardbound | ISBN: 978-0-937548-74-5 | Regular Price: $22.95 Print Edition
Order Now: Print Edition | Amazon Kindle | B&N Nook | Kobo