Batsto Village: Jewel of the Pines
By Barbara Solem; Photographs by Albert D. Horner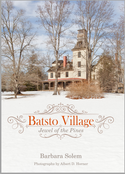 Order Now
Learn More
The preview includes the Table of Contents, Introduction, Sample Chapter, and About the Authors
"Barbara Solem is a persistent researcher with a knack for bringing history alive. It's surprising that it's taken this long for someone to finally pen the story of Batsto Village, but in this author's capable hands, I can honestly say it was worth the wait."
—Budd Wilson, historical archaeologist
The story of Batsto, an early iron town and glassworks at the heart of southern New Jersey's Pine Barrens, is unique in American history. From its modest beginnings as a sawmill in the 1760s, Batsto grew into a thriving industrial community through the Revolutionary War years and beyond, its fortunes rising and falling for two centuries as a succession of owners and speculators brought their visions and schemes to bear. Located along the Mullica and Batsto Rivers, Batsto's ironworks became a vital supplier of arms to Washington's army and nurtured a "nest of rebel pirates" that would confound British forces and help turn the tide for Independence.
Today's Batsto Village is a loving recreation of a Pine Barrens ghost town—an open-air museum that brings history to life. Batsto visitors and history buffs are fortunate to have the restoration supported, at long last, by Barbara Solem's engaging and detailed account.
October 2014 | 163 pp/softbound | ISBN 978-1-940091-01-3 | Regular Price $15.95
Order Now: Print Edition | Amazon Kindle | B&N Nook | Kobo
Don't Miss These Other Titles By Barbara Solem: