A Field Guide to the Pine Barrens of New Jersey: Its Flora, Fauna, Ecology and Historic Sites
By Howard P. Boyd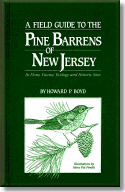 Order Now
...Howard Boyd has succeeded in the formidable task of bringing together definitive and detailed answers to questions about the Pine Barrens.... This Field Guide is a must for anyone who is casually or seriously interested in the New Jersey Pine Barrens.

— V. Eugene Vivian, Emeritus Professor of Environmental Studies, Rowan State College
With his 420-page volume, author Howard Boyd presents readers with the ultimate handbook to the New Jersey Pine Barrens. Boyd begins his book by explaining and defining what makes this sandy-soiled, wooded habitat so diverse and unusual.
Each entry gives a detailed, non-technical description of a Pine Barrens plant or animal (for over 700 species), indicating when and where it is most likely to appear. Complementing most listings is an original ink drawing that will greatly aid the reader in the field as they search for and try to identify specific flora and fauna.
This book is available as part of a Special Bundle.
1991 | 423 pp/softbound | ISBN 978-0-937548-19-6 | $22.95
Order Now: Print Edition | Amazon Kindle | B&N Nook | Kobo